SwissCash
This is another VIP in SwissCash. This young great man is really somebody.
Previously he was with MTEN (Majlis Tindakan Ekonomi Negara). He also one of the SwissCash investor.
Copyright © Humaidi Fadzil 2006. All rights reserved.
financial consultant's site
Before you invest in any investment program, you must understand that all investment, there is a risk involved .
Never invest more than you can afford to lose! This rule is true for all investments, whether it be Mutual Funds, HYIPs, or even offline stocks. Funds you need to live should rather be saved in a savings account.
So, diversify your investment to minimize the risk. Bear in mind, no risk, no gain...
the gateway to financial freedom
________________________

Dato' Dr. Ruslizam
"knowing is not enough; we must apply. willing is not enough; we must do"
- Johann Wolfgang von Goethe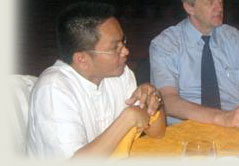 He was exposed with all types of investments, onshore and even offshore investments. He can tell that many offshore investments can definitely give big returns compared to local investment, especially Malaysian unit trusts or any amanah saham.