SwissCash
Previously he was a great teacher. Teached in one of the secondary school in Johor. Last March, he willingly resigned from his career and doing SwissCash full time. He is now a millionaire.
Copyright © Humaidi Fadzil 2006. All rights reserved.
financial consultant's site
Before you invest in any investment program, you must understand that all investment, there is a risk involved .
Never invest more than you can afford to lose! This rule is true for all investments, whether it be Mutual Funds, HYIPs, or even offline stocks. Funds you need to live should rather be saved in a savings account.
So, diversify your investment to minimize the risk. Bear in mind, no risk, no gain...
the gateway to financial freedom
________________________

Cikgu Ismail
"it is not how much we have BUT how much we enjoy. that makes happiness"
- Charles Spurgeon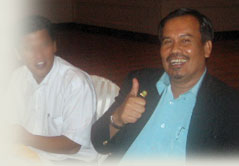 He joined SwissCash August last year and actively promoting SwissCash to the people. His trademark is; "everyday is Sunday, wonderful day!". His monthly income is 6 figures without fail. Yes, that is wonderful!