SwissCash
He is the younger brother of Amir Hassan. Previously was a manager in a company. Resigned and doing online business full time. One of the business is SwissCash.
Copyright © Humaidi Fadzil 2006. All rights reserved.
financial consultant's site
Before you invest in any investment program, you must understand that all investment, there is a risk involved .
Never invest more than you can afford to lose! This rule is true for all investments, whether it be Mutual Funds, HYIPs, or even offline stocks. Funds you need to live should rather be saved in a savings account.
So, diversify your investment to minimize the risk. Bear in mind, no risk, no gain...
the gateway to financial freedom
________________________

Mr. Anuar Hassan
"everyone has inside himself a piece of good news! the good news is that you really don't know how great you can be, how much you can love, what you can accomplish & what your potential is"
- Anne Frank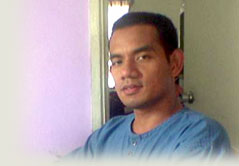 He joined SwissCash August last year and actively promoting SwissCash to the people. Now he earns much more than his previous career. 6 figures income per month, isn't that outstanding? You are a great man!